Corporations
Our corporate partnerships are a key component to engaging the general public. Through corporate partners, we are able to build brand awareness and educate consumers about the cause of vision. Corporations help us to reach new audiences and help make a difference in their communities.
We are so thankful to our corporate partners who implement cause marketing campaigns within their business by selling products and implementing donation campaigns at their retail stores.
Corporate Partners

Essilor of America, the leading manufacturer of eyeglass lenses internationally, founded Essilor Vision Foundation in 2007. Essilor of America provides office space, overhead, employee salaries, technology, and other financial support for Essilor Vision Foundation. This allows the organization to focus on raising funds to directly serve people in need of vision care. Due to Essilor's support, over 90% of every dollar donated to the organization goes directly to providing vision services to people in need. Essilor of America is our organization's founding sponsor and largest donor in-kind.

In 2017, PERC+IVA began their partnership with Essilor Vision Foundation. The partnership was formed from the common desire to see that all children in the U.S. have access to the vision care they need.
Programs
ICONKIK and PUBLIC EYEWORKS FRAME LINES
Starting in 2017, PERC+IVA will launch a campaign to benefit Essilor Vision Foundation through the sales of frames from the Iconkik and Public Eyeworks brands. From September 1, 2017—August 30, 2019, PERC+IVA will donate $2 per Icon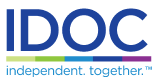 IDOC and Essilor Vision Foundation began their partnership in 2017 with the common goal of providing IDOC locations the opportunity to give back to children in need of vision care.
Programs
In-Office Cause Campaign Program
Beginning in late 2017, Essilor Vision Foundation and IDOC have partnered together to provide an In-Office Cause Campaign program for all IDOC locations. Every location will have the opportunity to collect donations, which will be given to Essilor Vision Foundation to support programs that provide vision care to kids in need.
Agencies

We would like to thank our marketing agencies who donate pro-bono hours. Your time, talent, and support to help our organization helps to develop creative content that inspires and motivates people to care about vision. Due to your generous support and endless passion for our cause, we are able to expand beyond our own reach and spread awareness about the importance of vision.
Golf Sponsorships
Thank you to our Golf Sponsors who support our annual golf event every year. Your generous support helps to fund one of our largest donor events of the year and makes a significant impact in helping to provide glasses to a child in need.
$20K+

$10K-$20K
Teijin Kasei America Inc.
Alcon
Jones Day
Capri Optics
Expeditors
Relevate Health Group
Burdette Ketchum
CooperVision
GOLIN
The Company
Hilco Vision
Younger Optics
FGX
UPS
PWC—Pricewaterhouse
Coopers
Cleary Gottlieb Steen & Hamilton LLP
$5K-$10K
Barnes & Thornburg
EGR International
Dentons
Gardere
A&R Optical Machinery
UnitedHealthcare
Evive Health
Holmes Murphy
Centurion Group
$1K-$5K
Santinelli
Prudential
FKQ Marketing
OMD
The Taben Group
Oblon, McClelland, Maier & Neustadt, LLP
Pull Media
Interested In Becoming A Corporate Sponsor?
Soar With Us
To us, a paper airplane is more than just a piece of paper. It symbolizes a child's ability to soar in life once they receive a new pair of glasses.
Join us and we'll send you a "How to Fold a Paper Airplane" PDF.
Help A Child See Today
Together, we can help every child see the world clearly.
Your donation helps provide vision exams and eyeglasses to children in need.