Kit educates students about eye health
Teachers and school nurses around the country can now get a free kit to teach students about their eyes. The Champions for Sight™ Super Reasons to Visit the Eye Doctor Education Kit is filled with fun activities kids can do in the classroom and at home to learn why it's important to take care of their eyes. The kit also educates parents about their children's vision needs.
Not being able to see clearly can make school hard for a student academically and socially. However, kids often don't know they have a vision problem, and they may be scared about going to the eye doctor. That's why the kit includes the Super-Duper Eye Doctor Visit Imaginative Play activity. Students can take turns using the eye doctor tools, eye chart and doctor checklist to be the "Excellent Eye Doctor" while others are the "Brave Patient." As the patient, students can learn to self-identify if they have a vision problem and can become comfortable with getting an eye exam. Pretending to be the doctor can inspire kids to become an eye doctor when they grow up.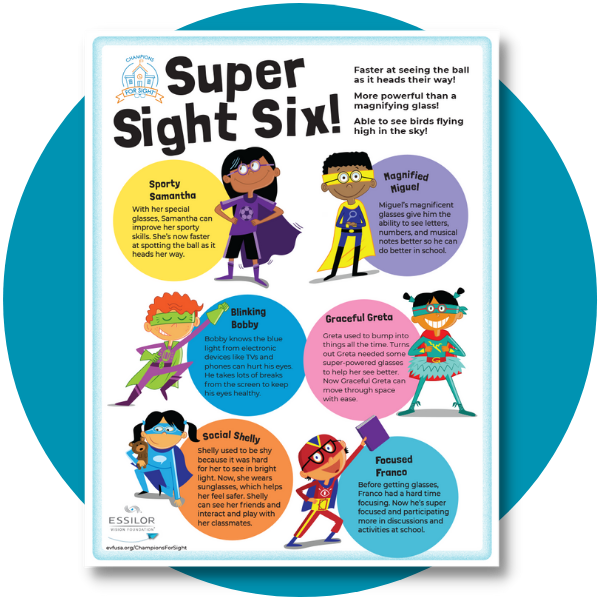 The Champions for Sight Super Reasons to Visit the Eye Doctor Education Kit also introduces kids to the Super Sight Six to show how clear vision helps in every part of life. For example, Sporty Samantha shows how wearing glasses helps her improve her sporty skills. See the Super Sight Six poster here.
The Need is Clear
There's no question that students need to see clearly to succeed in school and life. A recent clinical trial to determine if poor vision among school-aged children affected learning found:
Getting glasses does improve students' performance in school. Third through seventh graders who got glasses through a school-based vision program achieved better reading scores.
A school-based vision program improved students' reading scores over one year, especially girls, those in special education, and students in the lowest 25% of their grade.
Cheryl Hollingsworth is a school nurse in the Blooming Grove Independent School District who is using the kit. "What I like about the Super Reasons to Visit the Eye Doctor Education Kit is that kids can do much of this in class and teachers can integrate this into their lesson plans," she says. "The kit and the cutout glasses are great to help prepare students who need to do vision screenings or prepare students who are going to the eye doctor get comfortable."
The Super Reasons to Visit the Eye Doctor Education Kit is available here. It will also available through We Are Teachers, one of the largest online resources for teachers.
Champions for Sight™ Empowers Educators
More than 6,000 educators have enrolled in Champions for Sight and now receive free educational resources to download and use in their schools each month. This new educational kit and the monthly resources provide teachers and school nurses with tools to help educate their students, parents and themselves about the important of eye health so they can better advocate for their students' health. Learn more about Champions for Sight here.
Help A Child See Today
Together, we can help every child see the world clearly.
Your donation helps provide vision exams and eyeglasses to children in need.