"Being able to give back in that situation is something that has impacted me and I will never forget that story as long as I live."
Recently, Dr. Ryan Parker sat down with two eye doctors and the President and Executive Director of Essilor Vision Foundation to discuss the importance and impact of being a charitable eye doctor. During this discussion, Dr. Parker, Director, Professional Services at Essilor of America, shared how being charitable impacted his community, his patients and himself. This video is an excerpt from that discussion.
One experience, in particular, had a big impact on him and as you will see in his story, it had a life-changing impact for his patient's life too.
EVF's Changing Life through Lenses® Provides Free Resources for Eye Doctors and Nonprofits
Changing Life through Lenses (CLTL), a free program created by Essilor Vision Foundation, was designed to help eye doctors and vision nonprofits increase their charitable capabilities for their communities. Through CLTL, eye doctors can get free complete glasses, labs services, frame collection and other free resources when they enroll in Changing Life through Lenses and help qualified patients.

For a limited time, eye doctors can also get up to $1,500 in CLTL Relief funds when registering for CLTL Relief and using the Changing Life through Lenses (CLTL) program to help patients in need. The funds are available for charitable jobs performed from June 1 – December 31, 2021. Learn more about CLTL Relief at evfusa.org/relief.
---
Optometrists Are Leaders in the Community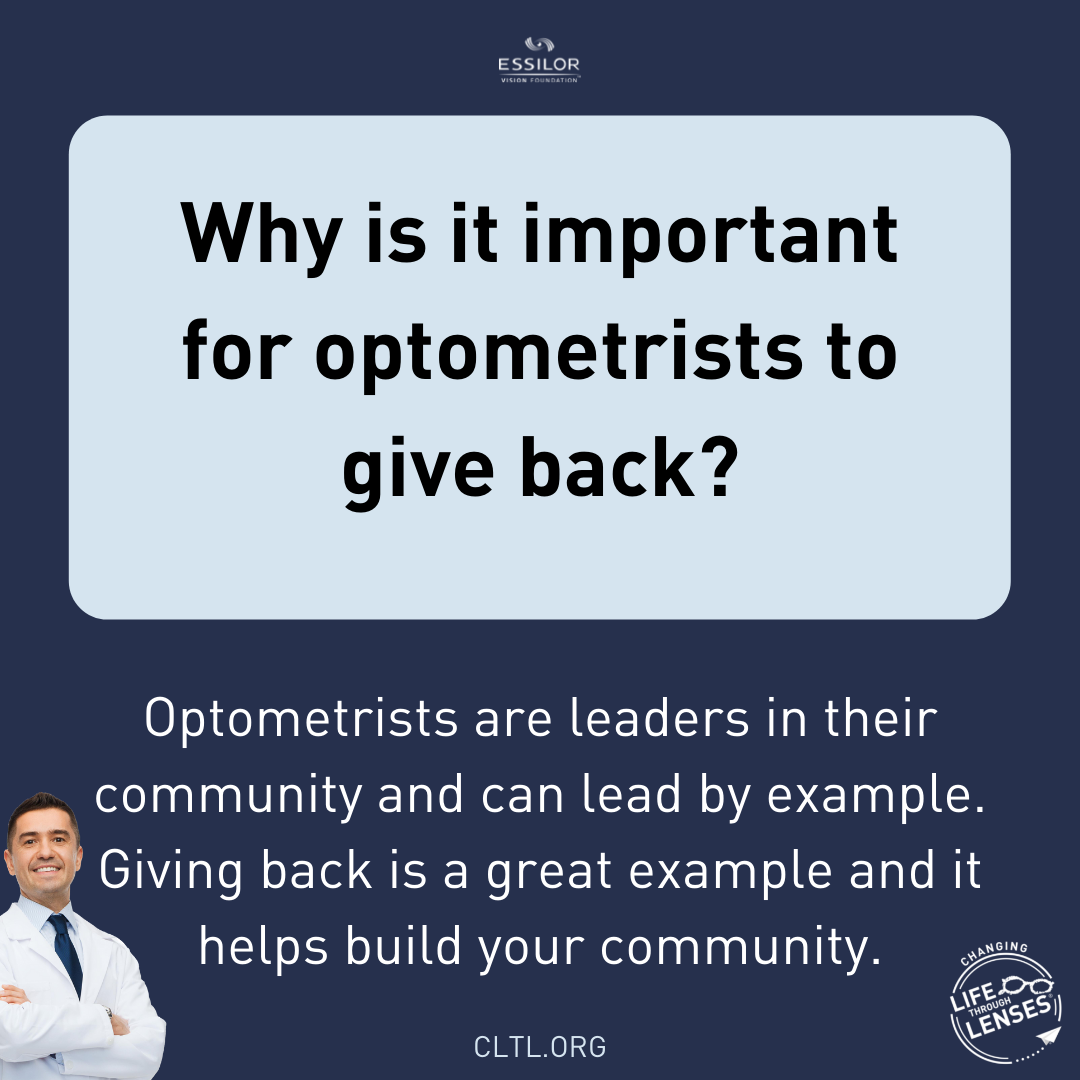 Optometrists are vital to the well-being of communities, big and small.
Dr. Parker expands on this idea and what a charitable eye doctor can mean in a community. "As optometrists we are a leader in the community that we're in. We need to lead by example and giving back is a great example.
If you get more people on board, it snowballs and ultimately your community gets better and your community will prosper. That's why I think it's so important to give back, because of the influence it creates and leading by example."
The Need for Charitable Eye Doctors Has Increased in the Current Environment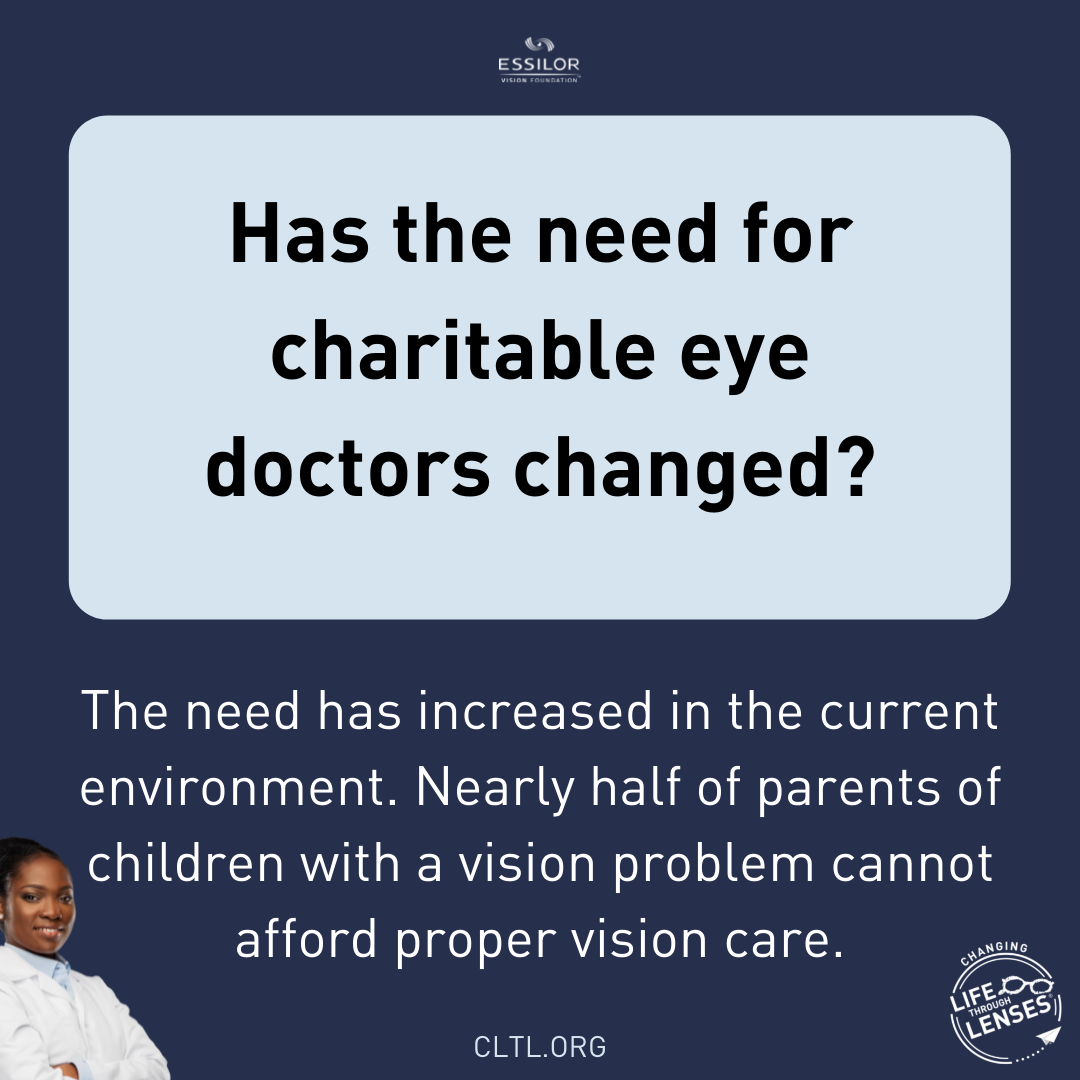 1 in 4 students in the United States has a vision impairment that impacts their ability to learn. This means that nearly 12 million students have a vision problem, but it's estimated that nearly half of parents cannot afford proper vision care for their student.
As Dr. Parker notes in this discussion, it seems the need for charitable eye doctors has increased because more and more families cannot afford vision care.
Dr. Parker shared, "Definitely the need hasn't gone away. In fact it's probably worse that it ever has been. There's more people in need of our charitable services."
Doing Good is Good for Business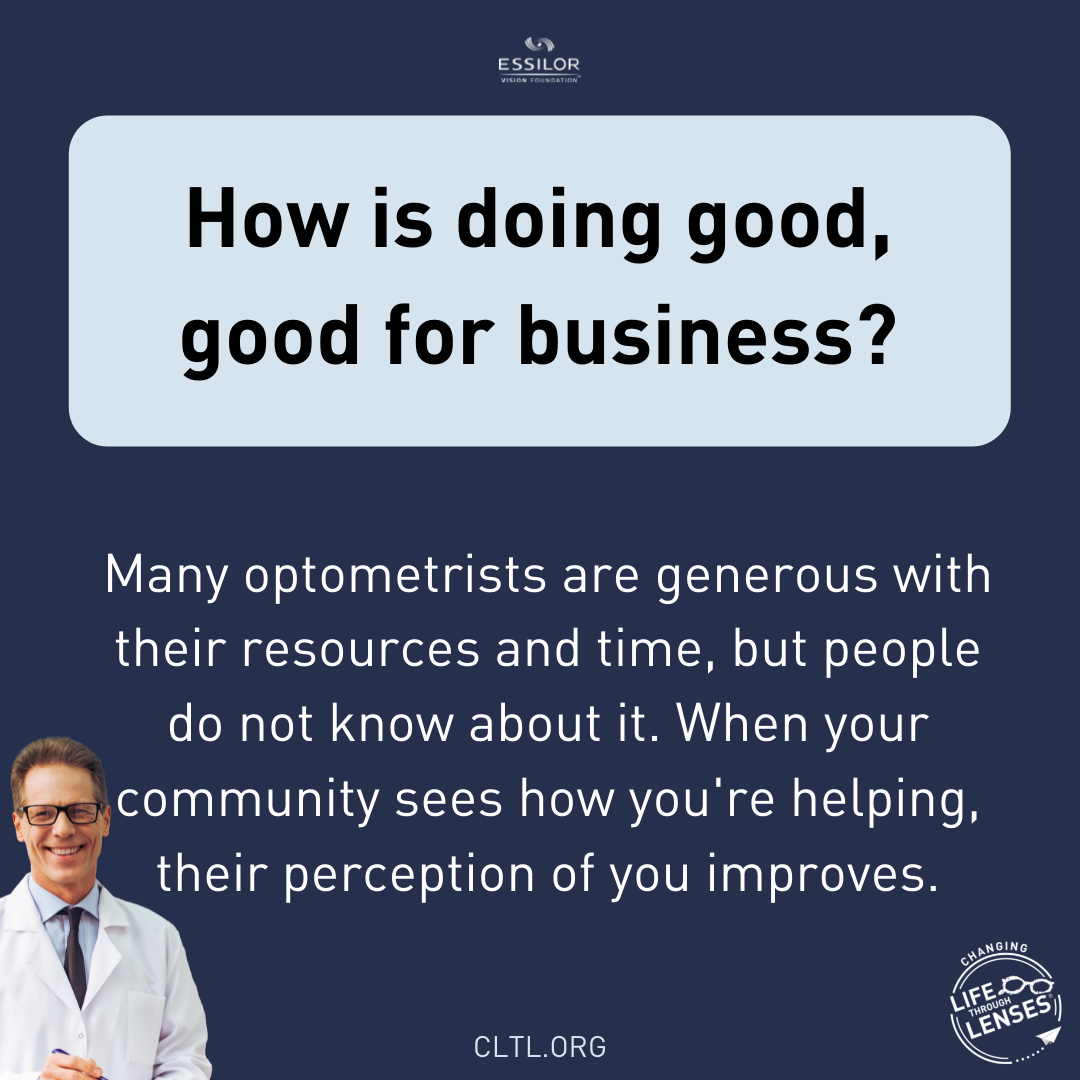 For many eye doctors, running a business and trying to be charitable can feel overwhelming or even impossible. "…I think the problem with all of us trying to run businesses and do our things [is that] we still want to [be charitable], but it's taken a back seat to other things."
"It's not just doing good, but it's good for business. It's not just about perception. What are you doing to make the lives of the people that you serve better?"
According to research, including research performed by Essilor Vision Foundation, patients have a more favorable perception of eye doctors who are charitable. Some customers would even switch to a doctor who is charitable over one that is not.
A Life Changed. A Life Saved.
When asked whether he had a story about being charitable that impacted him, Dr. Parker shared this compelling and surprising story.
"Judy came to me from another practice. Judy is deaf and lip reader." He goes on to describe how Judy is an older patient and came to his practice, letting him know that she had basic, state insurance and that she had been avoiding going to the doctor. "Macular whole in one eye and great vision in the other eye. Sure enough we ran an OTC … and sure enough, she had an impending whole on the left side. I called up a retinal surgeon that sees eye-to-eye with me on certain charitable cases and he got her in that day. He ended up doing a great surgery. Stopped the hole – repaired it. She had 20/15 vision." Notice that because of two charitable doctors, this patient was able to have her vision and health properly addressed.
Dr. Parker continued, "A few years down the road I actually met her son at another event that was in town. He came up to me and said, 'Oh, you're Dr. Parker!' And he said without hesitating, 'You saved my mother's life!' And I laughed a little bit because there's another Dr. Parker in the town that I practice in who's a surgeon. And I [said], 'Oh, you've got us confused, I'm not a surgeon.'
Judy's son continued, "'No. No sir. My mom reads lips. That's the only way she can communicate. And she's told me on multiple occasions that if the same thing that happened to her left eye, that happened to her right eye, she wouldn't have the will to live anymore.'
"And that stopped me cold in my tracks. And it reminded me of the importance of what we do is not only vision-related. It's overall health and wellness. And being able to give back in that situation is something that has impacted me and I will never forget that story as long as I live."
Without charitable doctors across the country, so many families and children would not have access to the vision care they need. Essilor Vision Foundation's Changing Life through Lenses program exists to make it easier for eye doctors to be charitable.
Learn more about Changing Life through Lenses or about the CLTL Relief campaign at evfusa.org/relief.