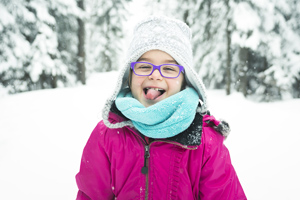 The holidays are here and that means the new year isn't far behind. If helping more children in need get eye exams and glasses in 2020 is one of your New Year's resolutions, Essilor Vision Foundation (EVF) can help make sure this is a resolution you can keep all year long.
EVF strives to give children a brighter future by helping them see the world clearly. Learn about charitable programs for eye doctors.
Changing Life through Lenses®
Changing Life through Lenses provides a free pair of glasses including no-cost frame and lenses when an eye doctor provides a vision exam to someone in need. O.D.s around the country are embracing the program.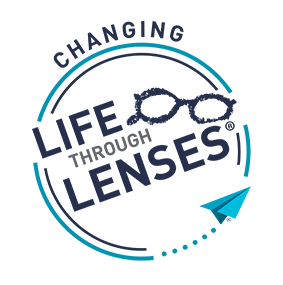 Ryan Powell, O.D., of Vision Source Eyecare in Kansas City, MO, enrolled in Changing Life through Lenses because it aligns with his practice's philosophy. He encourages his peers to enroll as well. "If you have a heart for providing care to those who cannot take care of themselves,Essilor Vision Foundation is committed to removing the burden of cost from the gift of eyesight. For many, it can be a debilitating handicap that you and I can easily resolve, and with the help of this program, we can make an impact on more lives."
Michael Ciszek, O.D., of Visionary Eye Care Professionals in Chicago, says he was excited when he learned about the program. "I knew Changing Life through Lenses could help us expand our philanthropic outreach. We had limited it to two exams per month because we were covering the cost of the glasses. Now we have been able to increase that to eight. Our first Changing Life through Lenses program patient wrote us a lovely letter explaining that the glasses gave him back his ability to earn a living."
See Kids Soar®
See Kids Soar is an in-office cause campaign intended to inspire parents, patients, and staff to adopt the cause of vision, and give them an opportunity to raise awareness and funds.
It provides free marketing materials to help doctors educate patients. Why become a practice that supports a cause? In a consumer survey, 61% of participants stated they would choose an ECP who supports a charitable cause over one who does not. "We are proud to participate in the program and give back to a cause that is dear to our hearts," says Ann Gallagher, O.D., of Eyes on 40-Professional Vision of Ellicott City, MD. "Every day we commit to providing vision services so people can see clearly. With this program, we can help ensure that kids around the country have the ability to soar in life."
Help Kids Be Kids
Essilor Vision Foundation is committed to helping every child have a better life through better sight. You can resolve to be charitable in 2020 and help EVF provide critical vision care to children in underserved communities by enrolling in our programs or donating. Just $50 provides an eye exam and glasses to a child in need.
Article originally appeared in Eyecare Business Magazine November/December 2019 Issue