Making a Difference Matters: Feature in Vision Monday Magazine | December 2020 Issue
As Essilor Vision Foundation (EVF) continues to navigate life during the coronavirus pandemic, the foundation is grateful for the support of the optical industry that helps EVF advance its mission of eliminating poor vision. These partnerships enable EVF to serve the eye doctors, schools and non-profits that are working selflessly to meet the needs of their communities during this unprecedented time:
This news was originally published in Vision Monday.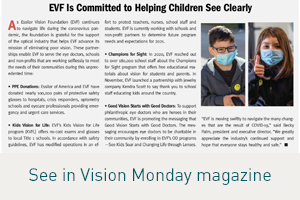 Media Contact: Meredith Marmurek | Email: meredith.marmurek@essilorusa.com | 214-850-3642
Help A Child See Today
Together, we can help every child see the world clearly.
Your donation helps provide vision exams and eyeglasses to children in need.